Wassup?
Cheap transport from airport
Because many people asked for possibility of cheaper transport from airport to party-place (and from party-place to airport on the way back) we have created Google Docs spreadsheet, where you can add your name and surname, flight number, day and time.
It is available there:

https://docs.google.com/spreadsheets/d/1RiqlLylyS8wdx2dkue6-b48roYb4cat1FiviJTiBESE/edit
People interested in using such transport option are asked to fill in the above document. Price on Friday (a public holiday) to "normal" taxi can reach about 60-80zł (~14-19 EUR), but this offer is 45 zł(~10-11 EUR) max. Remember to call immediately upon arrival at my number +48 603 370 134 and get out from airport through main gate, having a card with well visible text "ATARI". Arrival time after phone is about 20-25 min.
Final deadline for compo entries
ATTENTION! ATTENTION!
Due to many questions, we would like to inform that FINAL deadline for delivery of compo entries is 12th November 2016, 12:00 CET (current time in Poland). Of course we encourage to send entries as soon as possible - it allows us prepare to present them properly and test with compo machines, also makes competition planning easier. Thank you and good luck!
Timetable of SillyVenture
SV2k16 will take place in following locations:
1. Economic-Trade Schools in Gdansk, ul. Seredyńskiego 1A
2. Club "Miasto Aniołów" (City of Angels), ul. Chmielna 26
3. ECS - Auditorium Hall / Cinema, Plac Solidarności 1
Everything reachable by foot :)
THURSDAY - 10th November
(evening hours - organisational meeting)
FRIDAY - 11th November
07:00 - official opening of party place (school)
11:00 - first part of discussion panels (school)
16:00 - unofficial welcome of all guests + tasting the "Silly Energy Drinks" in special projected cans including "Atari" and "SV2k16" logos (school)
18:00 - offical welcome of all guests, devil's show (18+) and video presentation (club)
19:00 - approx 1h of music performance by invited special guest from France - Adrien Dangha (club)
21:30 - Crazy compo (Whip! Pong)
SATURDAY - 12th November
10:00 - wake up with Red Bull (school)
10:30 - second crazy compo
11:30 - second part of discussion panels (ECS)
14:00-15:00 - Full-hour presentation of the best productions of SV2k - SV2k14 at the cinema (ECS)
17:00 - start of competitions (school)
SUNDAY - 13th November


09:00 - Announcing the results and giving awards. Among those present in the hall there will be drawn at least 1 ticket (worth 100 zl ) for a concert of star of electronic music scene - Marek Bilinski, which will take place just in the last day of SV2k16 - 13th November (Sunday) at. 18:00 in Gdansk, building of N.O.T., ul Rajska 6. More info at http://powrotzprzyszlosci.pl/
ATTENTION: During the competitions the main door of party-place will be closed.
Order your SV t-shirt ! (till 18.10.2016 - new colours !)
Would you like to have a very special souvenir from the party? Order the t-shirt prepared specially for Silly Venture 2k16 !
There are a whole range of sizes to choose from - XS, S, M, L, XL, XXL or XXXL.
Colour: GREY, BLUE AND BLACK. "SILLY VENTURE 2k16" logo in front, and following sentence using Atari XL/XE font - "THE WORLD'S BIGGEST ATARI GATHERING".
Price: 13 Euro / pc.
IMPORTANT !!! Please make your order by 18th October (Tuesday). After that the t-shirts go to the printer company. Of course there should be more t-shirts printed in time for the party (some extra pieces, as usual), however in very limited amount and in already precised size.
Silly Venture Greetings - supplement to the 2k14 edition
Video-supplement to the edition in 2014 ! (with english subtitles) - greetings from the famous polish singer, composer and founder of Illusion and Lipali music bands. The video was firstly presented at Silly Venture 2k14 during the "Opening Ceremony". Recorded by Grey / MSB and put together by Larek.
Attention ! New Party Venue !
So, it has finally happend ! We have a new party venue! 🙂 It took a while, 'coz negotiations were conducted right up to the last minute. The main hall is one and a half times greater, better location (very close to the Old Town of Gdańsk).
For some people who have already booked their hostels, apartments and hotels it will be good news, for some others - a little bad (longer walk!) 🙂
Address of the new party place:
Szkoły Ekonomiczno-Handlowe im. Macierzy Szkolnej w Gdańsku,
ul. Seredyńskiego 1A
Gdańsk
POLAND
1,2 km distance from the previous party venue on Śluza street. This means the distance to previously mentioned hostels, apartments and hotels have changed:
"Old Town" hostel - 290 m (instead of 1,3 km)
"Kamienica Panna Gdańska" apartments - 1,4 km (instead of 210 m)
"Almond" hotel - 1,7 km (instead of 600 m)
However, the distance for people who booked their accommodation at "Dom Muzyka" is still the same at 650 m 🙂
Confirmed Silly Talks !
Confirmed "Silly Talks" - Timetable
Cross Development with WUDSN IDE
By JAC!
Everything you wanted to know about life in a lunatic asylum but were afraid to ask
By undisclosed Silly Talker
Atari 2600 VST - a VST plugin for making Atari 2600 music
By KK
Programming the Atari VCS 2600
By JAC!
Stories from the Atari 8-bit demoscene - Assembling a timeline
By Pirx and Frankenstein
The MPP file format
By Zerkman/Sector One
K65 compiler - a custom language for 65xx CPU family
By KK
How the skills gained developing 8 bit Atari demos may help you in building low latency trading engines. Is coding with AVX instructions on Core i7 similar to 6502?
By former Goldman Sachs VP, JP Morgan Executive Director and demo coder.
SV2k16 invitro for Atari ST !
Yesterday, at the latest edition of RiverWash multi-platform party in Katowice / Poland, another SV2k16 invitro has been presented to public - this time for the Atari ST. It's 360 KB prg and contains video with quite long samplesequence, coded by Lsl from Checkpoint.
Pouet: http://www.pouet.net/prod.php?which=68072
Accommodation and discount
Ok, in terms of accommodation everything is worked out :) I'm sorry that it took so long, but I thought that 2 months before party is enough to take care of it :) Imagine my surprise when it turned out that in one of these "dormitories" all the rooms during the SV are already taken! :) (Coincidence?) But it shouldn't be a big surprise cause some of our foreign guests have their flights booked for months. Although there's no available rooms in Kamienica Panna Gdanska... they theoretically are :D And even cheaper than offered at booking time. What c'mon? Ok, first things first...
I chose 3 shelters categorized by capacity of wallets and expected standard. When making a reservation, using word "ATARI" (by placing it in the subjec of e-mail or speaking by phone) you get a special discount:
CHEAPEST OPTION (HOSTEL)
HOSTEL OLD TOWN
Dluga Grobla 7
e-mail: hostel@hostel.gda.pl
tel.: +48 58 351 31 31
Distance from the party-place: 290 m
Rooms 2 beds: 40 zl per person (~10 EUR), or a whole room 80 zl (~20 EUR) (without discount: 120 zl (~30 EUR))
Rooms 4 beds: 40 zl per person (~10 EUR), or a whole room 160 zl (~40 EUR) (without discount: 240 zl (~60 EUR))
Rooms 6-8 beds: 30 zl per person (~7 EUR) (without discount: 40 zl per person (~10 EUR))
MORE EXPENSIVE OPTION (APARTMENTS)
KAMIENICA PANNA GDANSKA
Torunska 28
e-mail: kamienica@pannagdanska.pl
tel .: +48 696 02 12 20
Distance from the party-place: 1,4 km
This option is directed ONLY to people who have booked accommodation there already. It should be CANCELLED and then make a reservation via phone or e-mail attachments. You will get a 7% discount of the amount offered at booking time! Of course, the password "ATARI" is NECESSARY.
MOST EXPENSIVE OPTION (4 STARS HOTEL)
HOTEL ALMOND
Torunska 12
e-mail: recepcja@hotelalmond.pl
tel .: +48 58 351 90 00
Distance from the party-place: 1,7 km
Single rooms for the price of 320 zl / room / night (~80 EUR)
Double rooms at the price of 370 zl / room / night (~92 EUR)
Triple rooms for the price of 490 zl / room / night (~122 EUR)
Price includes: breakfast, wi-fi, VAT, entry to the SPA & Wellness zone: indoor swimming pool without chlorine, dry and steam sauna, jacuzzi.
If you have any questions, concerns, or problems with booking - please contact us.
Silly Talks @ Silly Venture !
What happens when you put a bunch of people with a shared passion into one room? You'll sure get some interesting conversations and a good chance to learn from each other. With this idea in mind we like to introduce a new activity:
Silly Talks!
What?
A Silly Talk (ST) can be a presentation, discussion or any other communication activity within a certain amount of time. A talk can be about anything interesting really. Examples: lightning talk (5 to 10 minutes), brainstorm session, back in the days story, amazing new tool demonstration, interview, quiz or something completely different.
Where?
The talks will be organised in a small classroom at the party location. The atmosphere will be informal, no microphones, no strict rules, just having fun! A beamer is available. Other requirements might be arranged on request.
When?
All talks will be scheduled during the party (not during the demo compo's!). There will be frequent breaks between talks.
Join us !
You as a visitor are invited to join us and be a Silly Talker! Let us know what kind of talk you want to do and the amount of time you expect it will take. A title and short description (teaser) would also be nice.
Greetings from:
Silly Talks Friendly Management (STFM).
sillytalks@sillyventure.eu
Premiere of LAURA game for Atari XL/XE !
We are pleased to announce that premiere of the game will be held on November 12th, 2016, during the gathering of Atari enthusiasts – Silly Venture 2k16. You will be able to buy the collectors edition of the game on the cartridge.

Below we present a poster, that announces the release of the game.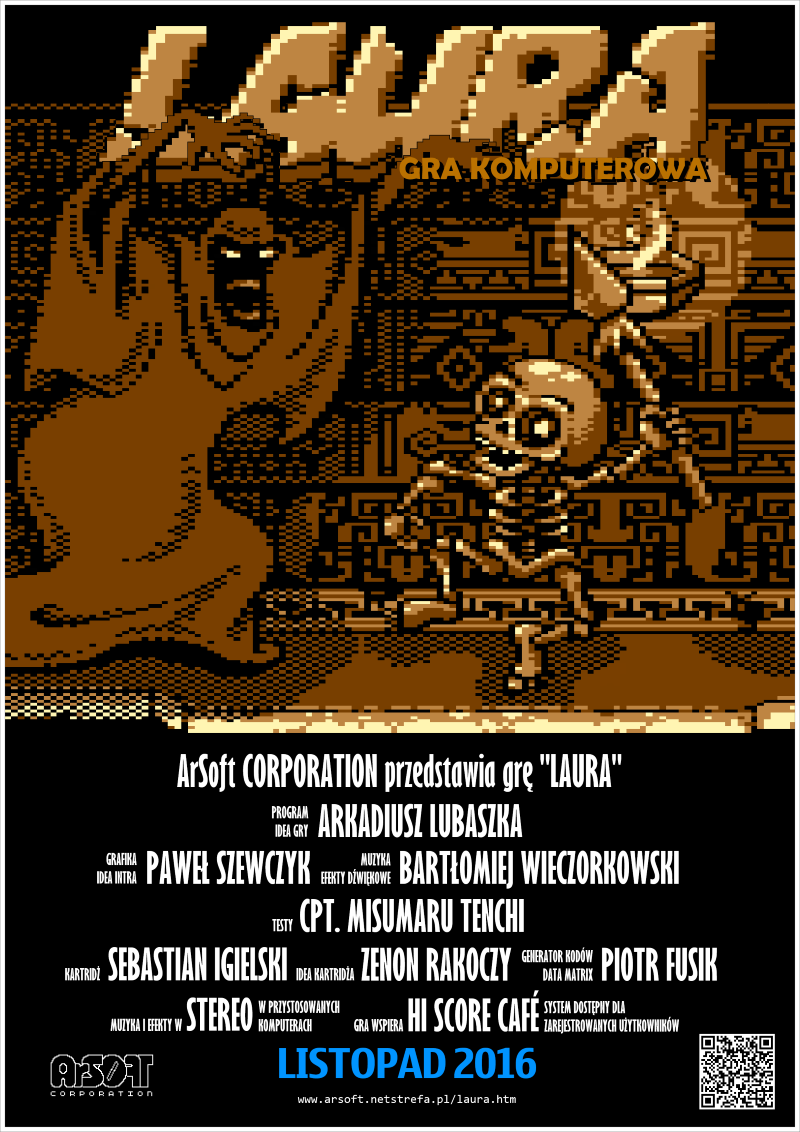 AUTHORS OF THE GAME
Programming and idea: Arkadiusz Lubaszka
Graphics, the idea of ​​intro to the game: Paweł Szewczyk
Music, sound effects: Bartłomiej Wieczorkowski
Tests: cpt. Misumaru Tenchi
Cartridge: Sebastian Igielski
Idea: Zenon Rakoczy
Data Matrix codes generator: Piotr Fusik
SYSTEM REQUIREMENTS
Cartridge version:
- Atari XL/XE computer (PAL system) with at least 64KB of RAM and an optional STEREO system
- Monitor or TV set
- Joystick
File-based version and SD card or SIOCART distribution:
- Atari XL/XE computer (PAL) with at least 128KB of RAM and an optional STEREO system
- Monitor or TV set
- Joystick
- Mass storage device:
- SIO2SD, SIO2PC, SIO2USB, SIDE, SIDE2, HDD, etc.
- SIO2SD for SD card distribution
- SIOCART with game
HI SCORE CAFÉ [HSC]
The game supports HSC system , which is available for registered users. Details available at: http://xxl.atari.pl/hsc/
CONTACT WITH LAURA
If you want to share your thoughts about the game with Laura, you have trouble with the passing level or you just want to say "Hi, how are you?" - Write.
E-mail to Laura:
[Address will be made available after the release of the game]
SV2k16 invitro for Atari Falcon 030 !
Yup, it's truth ! After invasion of invitations relased in May, it's time for another one at the end of June ! This time it's invitro for the last Jack Tramiel's computer - Atari Falcon 030.
Requirements: Falcon with 14MB of RAM. Intro was done in co-operation of Dune and Mystic Bytes demo groups.
Pouet: http://tiny.pl/g9x83
SV2k16 - 2nd invitro for Atari 8-bit with VBXE !
Shortly after the invitro for the standard Atari XL/XE is recently released at Outline, here comes another intro! This time it's targeted for the powered Atari 8-bit machine with the VBXE video board.
Short credits: Code by TeBe, Graphics by mOOnie, Music by Wiecz0r and Scrolltext by Grey.
Pouet: http://tiny.pl/gr559
Silly Venture 2k16 - 2nd video-invitation !
Pawel Piotr Kukiz (born 24 June 1963) - Polish singer, actor, and activist. Leader of the Kukiz'15 political party, candidate in the 2015 presidential election (received 21% of the votes in the first round of the elections) finishing third, is heartily inviting you to visit Silly Venture 2k16 in Poland!
Check this out !
Silly Venture 2k16 - 1st video invitation is out !
So... here it comes ! It's time to show you our 1st video-invitation for this year's Silly Venture! We have added english subtitles for our dear foreign visitors :) Special thanks to Batłomiej Wieczorkowski and John Cove who made it possible !
SV2k16 invitro for Atari XL/XE !
We are so proud to present our first SV2k16 invitro for Atari XL/XE ! Requirements: standard Atari machine with 64KB of RAM. It was presented on the current edition of Outline 2016 party and got 2nd place in the Realtime Wild Demo. Thanks to everyone involved in this little (but so cute!) production - F#READY, Odyn1ec and Wieczór !
Pouet: http://www.pouet.net/prod.php?which=67326
Get ready for more video and intro invitations next week(s) and month(s) !
The SV2k16 website has been launched !
We have very great pleasure to reveal our new website for the Silly Venture 2k16 event! From this moment you can follow all the news and be "up to date" with everything concerned with our event. We also hope that all the new content on this site will be motivation not only to come to SV2k16, but to take a part in the competitions. There's really a lot of categories to choose from. You can win some really cool prizes and everlasting fame in the Atari scene ! :)
From my side I would like to sincerely thank Wieczór and Hospes for a whole work put in to make this website a reality. Let's all cross our fingers that this common effort will find due reflection when autumn comes around !
p.s. Special thanks to CiH / Maggie Team for some grammar checks :)
Grtx,
Grey / Mystic Bytes